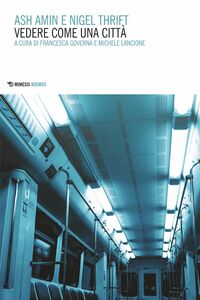 Questo libro si colloca all'interno dell'ampio insieme di ricerche che si interrogano sulla città contemporanea, adottando una prospettiva centrata sul suo funzionamento e sull'organizzazione urbana. Più che il palcoscenico silenzioso sul quale agiscono attori e poteri, le città sono le reti socio-tecniche. Interrogarsi sul lavorio nascosto degli algoritmi, dei codici e dei sistemi socio-tecnici non ha però solo un intento interpretativo, ma si pone esplicitamente un obiettivo politico: la regolazione delle infrastrutture è infatti proposta come obiettivo principale dell'azione politica.
Book details
Publisher

Original text

Yes

Language

Publication date

Collection
About the author
Ash Amin
Ash Amin, Professore di Geografia e fellow del Christ's College all'Università di Cambridge (UK), è autore di importanti pubblicazioni sulla dimensione relazionale del fenomeno urbano, sui processi di globalizzazione in rapporto alle dinamiche del quotidiano, sul multiculturalismo, sull'economia culturale e della conoscenza. È stato visiting professor in numerose università europee, è membro della British Academy, della Academy of Social Sciences e dell'Accademia Nazionale dei Lincei. Ha ricevuto il riconoscimento CBE nel 2014 per i suoi contributi alle scienze sociali.
Nigel Thrift
Nigel Thrift, Professore emerito di Geografia, già vice-rettore dell'Università di Warwick, è stato founding director di Schwarzman Scholars (New York e Beijing). È autore di importanti pubblicazioni sulla città contemporanea, la teoria non-rappresentazionale e le nuove forme della politica. Durante la sua carriera ha ricevuto numerosi premi e riconoscimenti accademici (Royal Scottish Geographical Society, Royal Geographical Society e American Association of Geographers), oltre a titoli onorari delle università di Bristol e Monash e, nel 2015, il Knight Bachelor per le sue attività nel campo della formazione superiore.