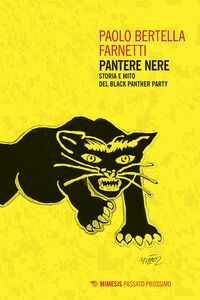 Pantere Nere è la storia di un leggendario gruppo di rivoluzionari neri nel "ventre della bestia" Usa, che ha caratterizzato in modo unico il movimento degli anni Sessanta del secolo scorso. La loro immagine – giovani armati e risoluti che volevano controllare gli abusi della polizia nel ghetto e liberare la colonia nera – ha scatenato il prurito sensazionalista dei mass media e spaventato a morte l'America bianca. Partite da un piccolo nucleo di militanti di Oakland, California, le Pantere Nere – dopo l'assassinio di Martin Luther King nel 1968 – crebbero fino a diventare un'organizzazione nazionale, definita "la più grande minaccia alla sicurezza interna degli Stati Uniti" da J. Edgar Hoover, direttore dell'Fbi. Il Black Panther Party fu affrontato dalle istituzioni con tutti i mezzi possibili, legali e illegali, e fu creato uno specifico programma segreto dell'FBI per annientarlo. La "guerra sporca" dello Stato e le contraddizioni interne riuscirono a neutralizzare le Pantere Nere, ma il loro esempio, che ha ispirato movimenti in tutto il mondo, è tuttora vivo nella cultura e nei valori degli africano-americani.
Book details
Publisher

Language

Publication date

Collection
About the author
Paolo Bertella Farnetti
Paolo Bertella Farnetti insegna Elementi di Public History al Master in Public History dell'Università di Modena e Reggio Emilia. È coordinatore scientifico del progetto Returning and Sharing Memory, per il recupero e la condivisione delle fonti, soprattutto private, della storia del colonialismo italiano (www.memoriecoloniali.org). Per i nostri tipi ha pubblicato Sognando l'Impero. Modena – Addis Abeba (1935-1941), 2007; e ha curato con Adolfo Mignemi e Alessandro Triulzi L'impero nel cassetto. L'Italia coloniale tra album privati e archivi pubblici, 2013; con Lorenzo Bertucelli e Alfonso Botti Public History. Discussioni e pratiche, 2017.