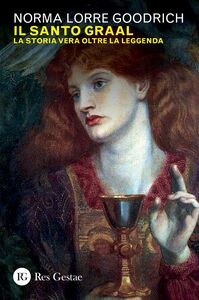 Che cos'è il Graal? La nave e l'altare di Perceval? Il calice di Gesù nell'ultima cena? O la pietra dell'eterna giovinezza? Avventura ambiziosa quella di Norma Goodrich, che ricostruisce la storia, la leggenda e l'itinerario di questo oggetto dall'identità ambigua, a partire dalla conquista della Spagna da parte di popolazioni semitiche dell'Africa fino a San Pietro a Roma, dal castello del Graal di re Artù al rifugio in Spagna durante le persecuzioni dei cristiani volute dall'imperatore Valeriano. Al di là di tutte le mitologie che si sono stratificate, l'autrice in questo libro, oltrepassando secoli di storie contraddittorie e separando i fatti dalla fantasia, offre al lettore la vera e autentica storia del Graal, uno degli oggetti più misteriosi e venerati dalla tradizione cristiana.
Book details
Publisher

Original text

Yes

Language

Publication date

Page count
About the author
Norma Lorre Goodrich
Norma Lorre Goodrich, pseudonimo di Norma Therese Falby (1917-2006), ha insegnato Francese e Letteratura comparata alla University of Southern California e al Claremont College. Tra i suoi numerosi libri pubblicati in Italia ricordiamo: Il mito della tavola rotonda, Merlino e Il mito di Ginevra.