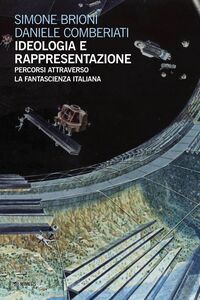 Il libro propone undici percorsi teorici all'interno della fantascienza italiana moderna e contemporanea per metterne in luce le caratteristiche originali e specifiche rispetto alla storia del paese e alla costruzione dell'identità nazionale. Gli undici capitoli (Discronie, Robot, Totalitarismi, Ecocritica, Follia, Religione, Terrorismo, Supereroi, Berlusconi, Europa, Postumano) analizzano ciascuno due o tre testi di riferimento, rifl ettendo sulla maniera in cui tali temi sono stati declinati all'interno della fantascienza italiana. Attraverso un viaggio culturale che spazia dal cinema alla letteratura, dal fumetto alle serie televisive, si vuole dare un'idea dell'originalità e della complessità di alcune esperienze culturali italiane, in un arco cronologico che va dagli ultimi anni del XIX secolo (L'anno 3000 di Paolo Mantegazza) alle più recenti uscite distopiche (Furland di Tullio Avoledo e La festa nera di Violetta Bellocchio, ma anche la serie Il miracolo di Niccolò Ammaniti), passando per i film degli anni Sessanta e i romanzi post-apocalittici degli anni Settanta e Ottanta.
Book details
Publisher

Original text

Yes

Language

Publication date

Collection
About the author
Simone Brioni
Simone Brioni è Assistant Professor al Dipartimento di Inglese dell'Università Statale di New York, Stony Brook. Si occupa di teoria postcoloniale, della narrazione delle migrazioni nel cinema e nella letteratura, e di cinema di genere. Oltre ad aver collaborato a diverse riviste ("Cinergie", "Italian Studies", "Science Fiction Studies", "The Journal of Italian Cinema and Media Studies") ha pubblicato le monografie J.G. Ballard: il futuro quotidiano (2011) e The Somali Within: Language, Race and Belonging in "Minor" Literature (2015).
Daniele Comberiati
Daniele Comberiati è professore associato di italianistica all'Université Paul-Valéry Montpellier 3, dove dirige il dipartimento di Studi Italiani. Si occupa di letteratura italiana della migrazione, postcolonialismo italiano, scritture di viaggio e poesia italiana del Novecento. Nel 2019 ha pubblicato Un autre monde est-il possible? Bandes dessinées et science-fiction en Italie, de l'enlèvement d'Aldo Moro jusqu'à aujourd'hui (1978-2018). Insieme a Simone Brioni ha scritto Italian Science Fiction: The Other in Literature and Film (2019).