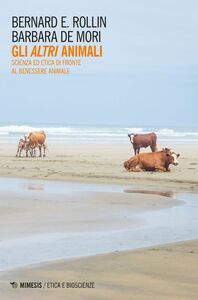 Sono in corso grandi cambiamenti riguardo al benessere degli animali. Sempre più si tratta di una questione al centro dell'attenzione dell'opinione pubblica, ma non solo. Per fare il punto, gli autori del volume partono da cosa rappresenta il benessere animale per gli "addetti ai lavori": indagando le preoccupazioni di medici veterinari, biologi, scienziati e personale di cura, emergono i tratti di una sfida quotidiana spesso causa di forte stress morale. Se chi lavora con gli animali è il destinatario primo di questo libro, l'altro interlocutore privilegiato siamo noi, la società, tutti coloro che, con le proprie scelte quotidiane, contribuiscono a stabilire come sarà il lavoro di questi professionisti, influendo direttamente sulla vita e sul benessere delle varie "categorie" di animali: da allevamento, da compagnia, da sperimentazione, selvatici.
Book details
Publisher

Original text

Yes

Language

Publication date

Collection
About the author
Barbara de Mori
Barbara de Mori insegna all'Università degli Studi di Padova ed è direttore dell'Ethics Laboratory for Veterinary Medicine, Conservation, and Animal Welfare. Membro di diversi comitati etici per la sperimentazione animale, è independent ethics advisor per progetti europei e responsabile per la valutazione etica di progetti internazionali sul benessere animale e sulla conservazione delle specie a rischio di estinzione.
Bernard E. Rollin
Bernard E. Rollin è University Distinguished Professor alla Colorado State University (USA). È stato uno dei principali architetti delle leggi federali statunitensi del 1985 sulla protezione degli animali da laboratorio. È membro della Pew Commission on Industrial Farm Animal Production (PCIFAP) e dell'Institute of Laboratory Animal Resources (ILAR) e consigliere della National Academy of Sciences. Ha vinto numerosi premi statunitensi e internazionali, tra cui l'AVMA Humane Award nel 2007.