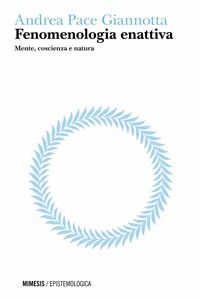 Qual è il rapporto tra la mente cosciente e la natura? A tale questione fondamentale si può rispondere in modi molto diversi, a seconda di come si concepiscono sia la mente che la natura. Questo lavoro offre una risposta originale, integrando la fenomenologia husserliana e la concezione enattiva all'interno di una prospettiva unitaria chiamata fenomenologia enattiva. Nel percorso qui sviluppato, il lettore troverà un'analisi ricca e aggiornata di alcune tra le questioni più dibattute nella filosofia della mente e nelle scienze cognitive contemporanee: il "problema difficile" della coscienza e il suo rapporto con l'intenzionalità, lo statuto epistemologico e ontologico delle qualità sensibili, la filosofia del colore, il dibattito sulla cognizione incorporata (embodiment) e l'approccio fenomenologico allo studio del mentale. L'autore sviluppa infine una proposta generale che si articola in una metafisica monistico-neutrale, processuale e relazionale della natura e della coscienza.
Book details
Publisher

Original text

Yes

Language

Publication date

Collection
About the author
Andrea Pace Giannotta
Andrea Pace Giannotta ha conseguito il dottorato di ricerca in Filosofia presso l'Università degli Studi di Firenze nel 2016. È stato assegnista a Firenze e visiting researcher a Liegi, Bochum e Graz, ottenendo finanziamenti dal DAAD e dall'OeAD. Ha pubblicato numerosi saggi e articoli su riviste internazionali, tra cui "Phenomenology and the Cognitive Sciences" e "Husserl Studies". Nel 2018 ha vinto il Premio di Filosofia Vittorio Sainati. Attualmente è cultore della materia in Filosofia teoretica presso l'Università degli Studi di Catania.