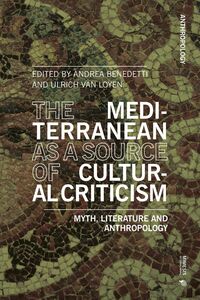 The essays contained in this volume explore the historical trajectories along which the Mediterranean has been conceptualized as a cultural, religious and economical resource and how these various aspects are intertwined. While staying clear of a merely "imagological" or "representational" point of view, the authors consider the interplay between culturally shaped attributions (for example the longstanding desire for a Mediterranean "Otherness" as expressed in German literature), their testing in empirical encounters, and the effect these encounters produce on both sides. Although focused particularly on 19th and 20th century culture, this volume offers a timely contribution to conceptualising the challenges of the 21st century. The conjunction of both provinciality and universality, the connectivity and fragmentation of the Mediterranean continues to be at the basis of the European matrix of all possible (hi)stories.
Book details
Publisher

Original text

Yes

Language

Publication date

Collection
About the author
Ulrich van Loyen
Ulrich van Loyen has obtained two PhDs in "Comparative Literature" at the Ludwig-Maximilians-University of Munich (2009), and in "Social Anthropology" at the University of Bern (2018). He is a Research Associate in Media Studies at the University of Siegen and both a scholar of German Literature and a Social Anthropologist by training. He has received numerous research grants, among others for his biographies on Franz Baermann Steiner and Norbert Elias. He has recently published the books Strände der Vernunft. Norbert Elias im inneren Afrika (2012), Neapels Unterwelt. Über die Möglichkeit einer Stadt (2018), and "Homo faber", special issue of the Zeitschrift für Kulturwissenschaften.
Andrea Benedetti
Andrea Benedetti has received two PhDs in "Modern Foreign Literatures (French, English, Spanish, German)" at the University of Pisa (2005), and in "Human Studies" at the Carlo Bo University of Urbino (2019). He has held courses on "Modern German Literature" and "German Language" at the Carlo Bo University of Urbino and at the Università della Calabria. He has recently co-edited Totalität als Faszination. Systematisierung des Heterogenen im Werk Ernst Jüngers (2017, with L. Hagestedt) and published a monography on W. H. Wackenroder, Tra parola e immagine: una rilettura dei Reiseberichte (1793) di Wilhelm Heinrich Wackenroder alla luce della circolarità ermeneutica (2019).