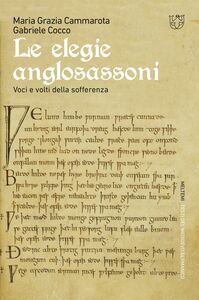 Le cosiddette "elegie anglosassoni" sono raccolte in un'ampia antologia di testi poetici in inglese antico compilata nel X secolo. Intrecciando l'ethos germanico con la prospettiva cristiana, rispecchiano un patrimonio culturale remoto, spesso opaco, a volte enigmatico. Questa guida alla lettura fornisce strumenti metodologici e possibili chiavi interpretative per entrare in quel mondo, che attraverso le elegie dà una voce e un volto alle molteplici forme della sofferenza e propone una riflessione sulle situazioni fondamentali vissute dall'essere umano di ogni tempo: dallo struggimento per amore alla contemplazione di edifici costruiti dai giganti diventati un ammasso di rovine, fino al rancore del mitico fabbro Weland che medita la sua atroce vendetta.
Book details
Publisher

Original text

Yes

Language

Publication date

Collection
About the author
Maria Grazia Cammarota
Maria Grazia Cammarota insegna Filologia germanica presso l'Università degli Studi di Bergamo. Nell'ambito della tradizione anglosassone e della tradizione alto-tedesca si occupa principalmente di ecdotica, traduzione, riscritture. Il suo libro più recente è Le trame del Maligno ai tempi della Riforma. Il diavolo del matrimonio di Andreas Musculus (2019).
Gabriele Cocco
Gabriele Cocco insegna Filologia germanica presso l'Università degli Studi di Bergamo. Il suo campo di indagine si concentra soprattutto sulla poesia gnomica e la letteratura cristiana dell'Inghilterra anglosassone. Ha recentemente condotto uno studio sul ruolo della liturgia funebre nel componimento The Fates of the Apostles di Cynewulf (2019).