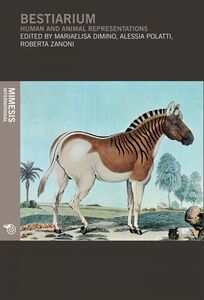 The human-animal relationship has always been characterized by a wide net of interactions and exchanges. By providing an overview of the concept of animality – and of the several meanings attached to it – this book aims at rethinking the real nature of this notion, towards a new definition of both the human and the animal. The authors highlight the need to overcome the traditional tendency to read the animal merely as a symbol, a metaphor or an allegory, whose only purpose is that of representing and negotiating human power relations of race, class, and gender. Within this context, the edited collection Bestiarium intends to contribute to the present debate on Animal Studies, by focusing on literary texts and discursive practices, which reveal the epistemological and cultural dynamics that structure the very representation of the animal.
Book details
Publisher

Original text

Yes

Language

Publication date
About the author
Mariaelisa Dimino
Mariaelisa Dimino is a Ph.D. student in German Literature at the University of Verona. She is currently working on the intersections between literature and visuality in Alfred Kubin's novel Die andere Seite. She is currently co-editing a book on Robert Musil, as chief editor of the Austrian soldier newspapers Heimat and Tiroler Soldaten-Zeitung.
Alessia Polatti
Alessia Polatti is a Ph.D. student in English Postcolonial Literature at the University of Verona. Her Ph.D. project deals with the migrant and diasporic experiences of Black British authors, with a focus on return and reverse migration. Among her other research interests is the postcolonial rewriting of English canon.
Roberta Zanoni
Roberta Zanoni is a Ph.D. student in English Literature at the University of Verona. Her Ph.D. thesis focuses on the way in which Shakespeare's figure and works are used by contemporary advertising. Her main research interests include English Literature, Literature and Mass Media, and Literary Transpositions and Translations.