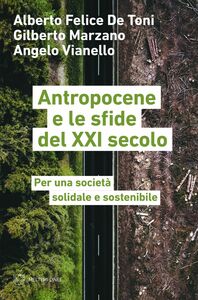 Nel XXI secolo l'umanità si è trovata a dover fronteggiare delle sfide epocali, tra le quali spiccano i gravi danni arrecati alla Natura e quella radicale transizione verso una "mutazione antropologica" chiamata rivoluzione digitale. Tali sfide hanno imposto un drastico cambiamento nel modo di percepire la cultura quale vera fonte di progresso. Questa deve infatti essere intesa come una "cultura della complessità", fondata su una sintesi tra approccio umanistico e approccio scientifico e posta al servizio di un umanesimo planetario che, nell'ottica della solidarietà e della sostenibilità, consenta di capire che "noi" precede "io".
About the author
Alberto Felice De Toni
Alberto Felice De Toni è professore di Ingegneria economicogestionale presso l'Università degli Studi di Udine e direttore scientifico di CUOA Business School.
Gilberto Marzano
Gilberto Marzano è direttore del Laboratory of Pedagogical Technologies presso la Rezekne Academy of Technologies (Lettonia), professore presso la Janusz Korczak Pedagogical University di Varsavia (Polonia) e presidente dell'Ecoistituto FVG.
Angelo Vianello
Angelo Vianello è professore emerito di Biochimica vegetale dell'Università degli Studi di Udine.